Dubois Agrinovation is actively involved in research
Organic berry growers face many challenges, including insect pests and crop diseases. Extreme weather events can also compromise crop productivity and quality. Dubois Agrinovation supports organic agricultural research by designing and supplying high tunnels and insect netting to protect berry crops. The Organic Federation of Canada interviewed Éric Ménard, Director of Business Development at Dubois Agrinovation.
Dubois Agrinovation was created in 2005 after acquiring a company with expertise in irrigation systems and products. Since then, Dubois Agrinovation has expanded its catalogue to also include products for plasticulture, floating row covers, netting, caterpillar tunnels and other accessories and tools for market gardeners. The company's market now extends to all of North America. The main focus is market gardens but the products can be used on other crops, on a large or small scale, in fields, greenhouses, vineyards, orchards and nurseries.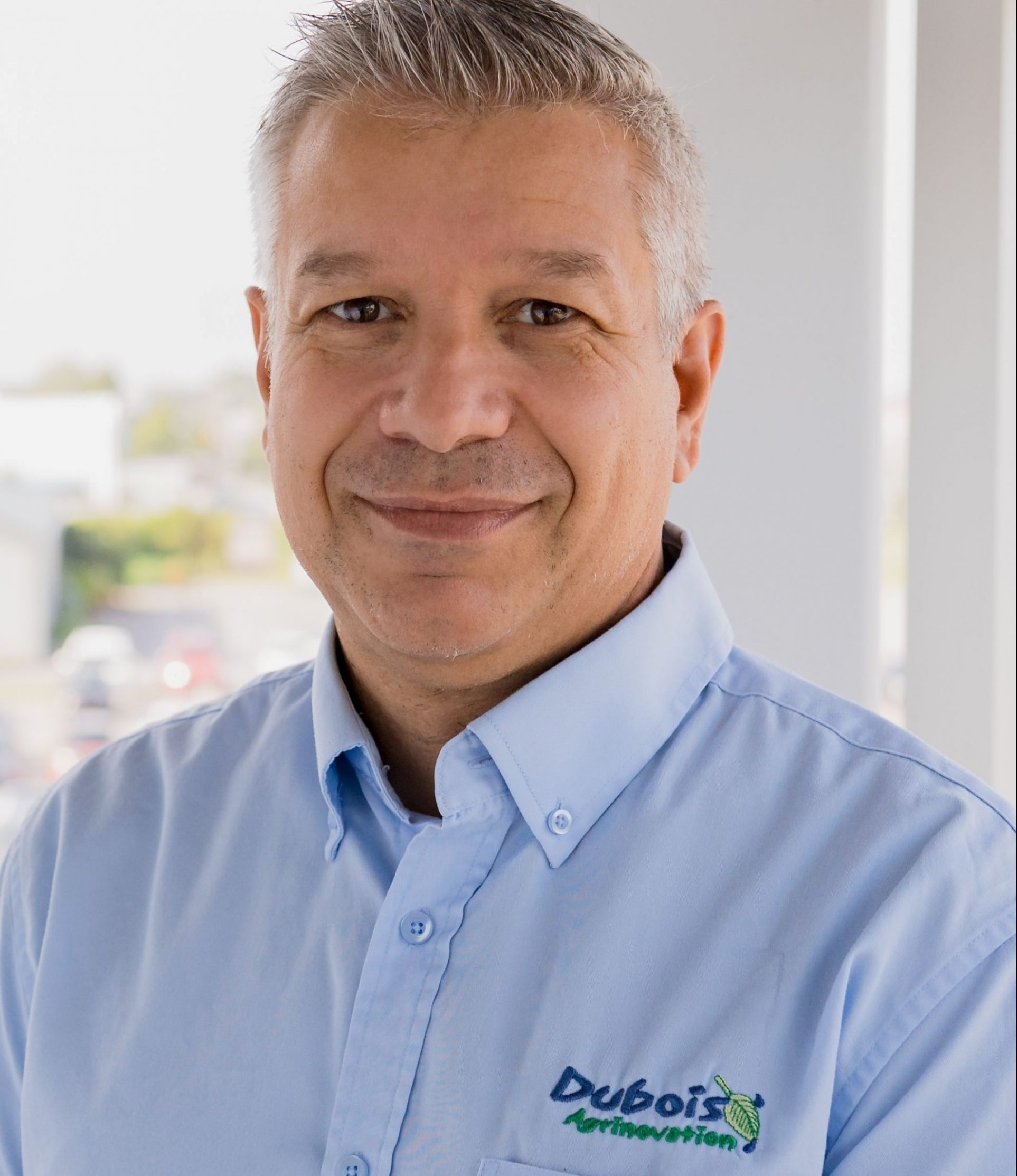 Éric Ménard, a researcher with Dubois Agrinovation, emphasizes the importance of innovation for the company, "We like to be avant-garde and offer new technologies, new processes, new products and new ways of doing things; that's what we built the company on". He adds, "We like to be the pioneer in the agricultural field, and the organic avenue appeals to us because we know that it is the future. We know that it is the right direction [to take] in this field.
Dubois Agrinovation is participating in Activity 16 of the Organic Science Cluster 3: Physical control of pests and increasing the harvesting season via an innovative high tunnel adapted to organic berry farming, rain shelter and insect proof nets, led by Dr. Annabelle Firlej, researcher at the Agri-environment research and development institute (IRDA), and Dr. Martine Dorais, professor and researcher at Laval University.
The objective of this research activity is to evaluate the performance and effects of insect netting and an umbrella shelter(separate or combined) on fall raspberry plants under organic management, with the ultimate goal of reducing reliance on pesticides, including biopesticides, and to reduce the use of phytosanitary products. The effectiveness and profitability of these physical barriers to pests must be demonstrated.
Dubois Agrinovation is actively participating in this research by providing the necessary components of umbrella shelters (structure, poles, arches, nets, caps, anchors, tensioners, etc.). The nets are of superior quality, knitted (which means that unlike woven nets, they won't unravel), and can withstand strong wind pressure without tearing.
Over the years, the company has also developed expertise ranging from design to installation processes and advises the research team on the best processes to use.
A lot of trial and error was involved in the company's collaboration with the IRDA researchers," says Éric Ménard. The Dubois Agrinovation team was actively involved in the design of the facilities for the project, discussing with IRDA researchers the choice of netting, structure and materials, and the ideal way to install the nets. Wind was the number one enemy to consider in the design; a structure had to be designed for worst-case weather scenarios, including hail, to provide lasting protection.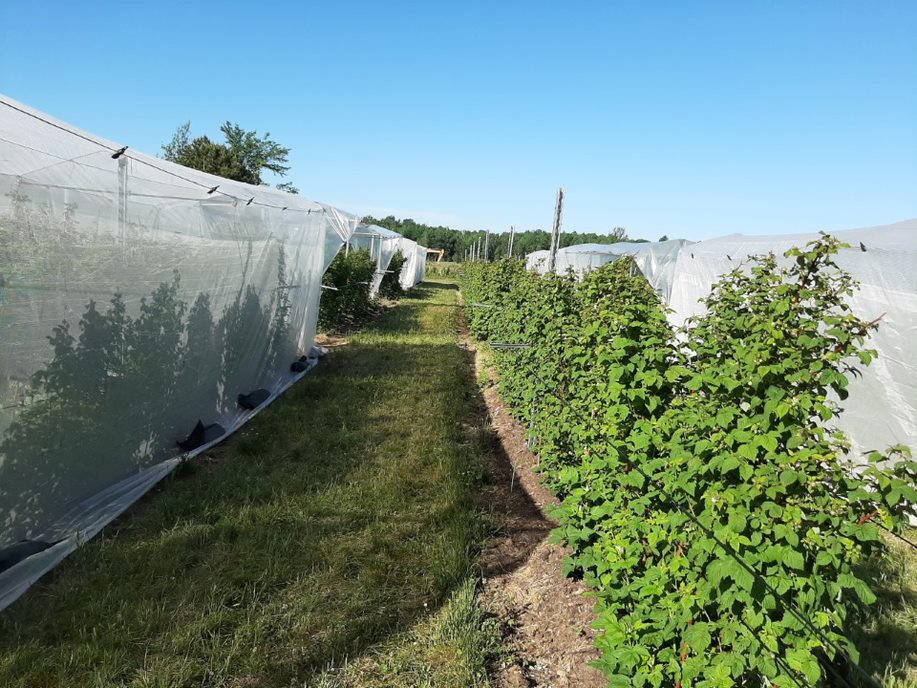 Berry growers commonly use one net over a large area to protect crops from pests. Through the Organic Cluster project, expertise has been developed to install a single row of insect netting in combination with plastic sidewalls. Research is also underway to design  hydrophobic netting, in collaboration with researchers at the Polytechnique de Montréal.
Éric Ménard has followed the evolution of the installations in the field over the three years of the project, in order to improve the installations and readjust the accessories each fall. Research is ongoing with producers to evaluate the effectiveness of the nets and test the structures. The research has allowed the company "to have more expertise in the single row structure and to verify the effectiveness in the field. To improve the solidity of the structure, we reinforced our arch. With this experience, the Dubois Agrinovation team was able to push its limits even further this year, by grafting this expertise to other applications to successfully complete an even more complex project for a producer."
Dubois Agrinovation highlighted the Organic Science Cluster project by organizing an international showcase during a two-day tour of the Quebec City and Montreal regions. They invited researchers from Quebec and elsewhere, from the United States to Mexico, to visit the Cluster's facilities at CETAB+ and IRDA. "It shows people that we're a little more innovative in some areas," says Ménard.  "Our notoriety at the market level is better, […] most of the universities that are doing projects in the field have already heard of us".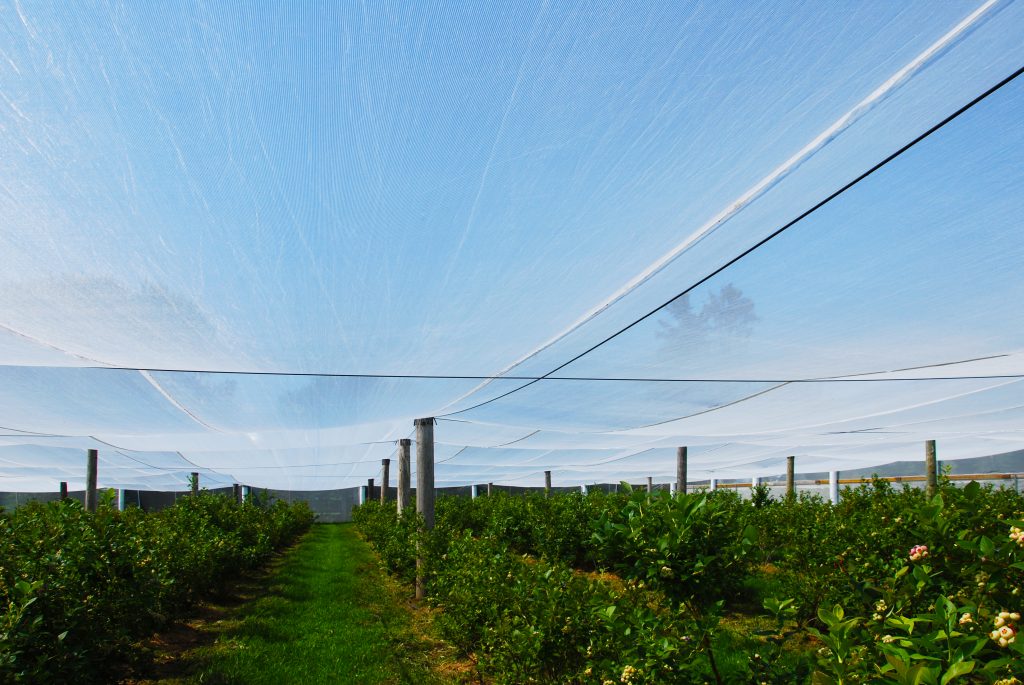 Insect netting is certainly a great tool for all organic producers. "What I would see in the future is to encourage conventional growers to come to organic and reduce their pesticide applications [by using insect nets]," says Menard. He adds that in Europe, certain pest control  products are already no longer registered and that conventional producers are increasingly turning to the use of insect nets. He is convinced that it is possible to create nets for market gardeners to use over large areas and thus have a greater environmental impact.
To learn more about Dubois Agrinovation and the activities of the Organic Science Cluster III, visit the websites: Dubois Agrinovation and Organic Science Cluster 3.
The company has also contributed in the past to Organic Science Cluster II by contributing to Activity B.11: Exclusion Nets for Organic Apple Production in the East.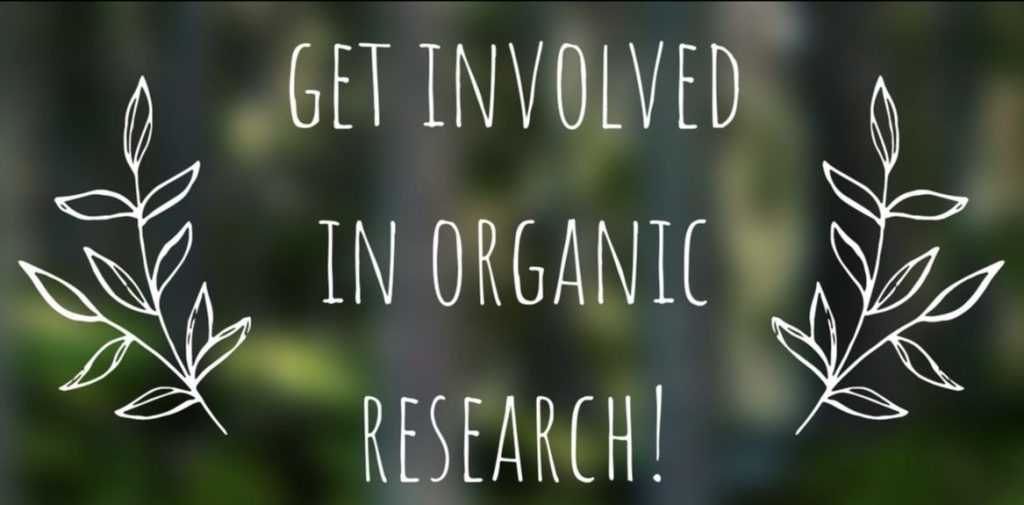 Important reminder
Are you a field crop producer?
Dr. Peter Tyedmers of Dalhousie University is conducting research on the potential impact of organic field crop production on climate. Your farm can provide valuable information!
Dr. Tyedmers and the Organic Federation of Canada are offering $50 to farmers who contribute data to this research project.
Dr. Tyedmers' friendly research team is collecting information on crop rotations, annual fertilizer inputs and energy sources on your organic farm. We will also look at your location, soil type and carbon sequestration potential. This information could be useful for you as well!
The research team will appreciate whatever information you can provide. You don't have to know your inputs down to the gram! The more farmers that participate in this research activity, the better the results!
Complete the questionnaire and participate in this national research activity by clicking on the following link:
https://ubc.ca1.qualtrics.com/jfe/form/SV_3QQZQoyG1UAzWzr
Fill out the survey to participate in this Nation-wide research activity!
Or, contact the team directly:
Peter Tyedmers – peter.tyedmers@dal.ca or Emily Laage – elaage@dal.ca if you farm in Quebec or the Maritimes,
Goretty Dias – gdias@uwaterloo.ca, Ryan Johnson – ryan.johnson@uwaterloo.ca or Shenali Madhanaroopan – shenali.mroopan@gmail.com if you farm in Ontario, or
Nathan Pelletier – nathan.pelletier@ubc.ca or
Lana Puddu – lana.puddu@ubc.ca if you farm in the West.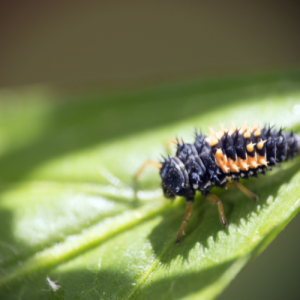 A new producer bulletin – Organic Science Cluster
Biological Pest Control
Organic farmers can control pests by providing habitat to support beneficial organisms, using trap crops, releasing biocontrol agents or applying biopesticides (pesticides made from natural sources, such as microorganisms, plants, animal tissue or minerals).
As part of the knowledge transfer activities of the Organic Science Cluster 3, the OFC and the OACC present the bulletin Biological Pest Control, describing the biocontrol agents such as predators, parasitoids, parasites and pathogens introduced or supported by humans with the intent to harm invertebrate pests that are damaging crops and reducing yields.