Organic on its way to the summit
Focused around the theme of Regenerating Organic From the Roots Up, the 2022 Organic Summit (November 21 -22) organized by COTA included a series of conferences about the environmental benefits of organic food, a plea from Meg Sears (Prevent Cancer Now (PCN)) for reducing use of pesticides , how to maintain organic sales under a possible recession, and presentations from CFIA and AAFC on the Canada Organic Regime and AAFC's approaches to organics in Canada. USDA's strengthening of organic rules were also presented. Click here to listen to the recorking of the conferences.
 
The second day of the Summit was dedicated to meetings with 17 Members of Parliament and Canadian Senators to  express the resources needed to support the growth of the Canadian organic sector:
a comprehensive Organic Action Plan that will support the infrastructure and mobilize resources for the growth of the sector.
permanent and predictable funding  provided for the maintenance and interpretation of the Canada Organic Standards, the foundation of the organic system.
maintaining full transparency and traceability of genetically engineered seeds sold on the Canadian market.
OFC met with many organic stakeholders and elected officials to discuss ways of strengthening the sector.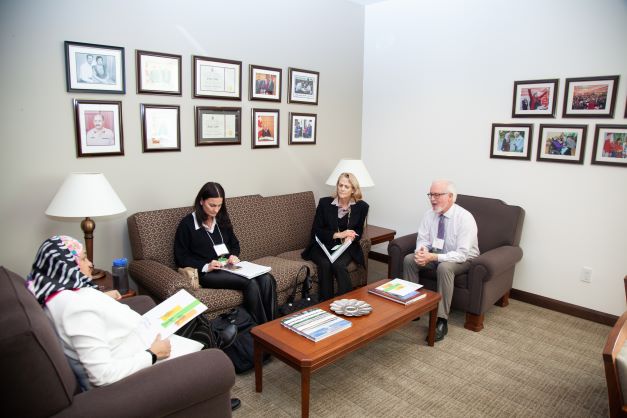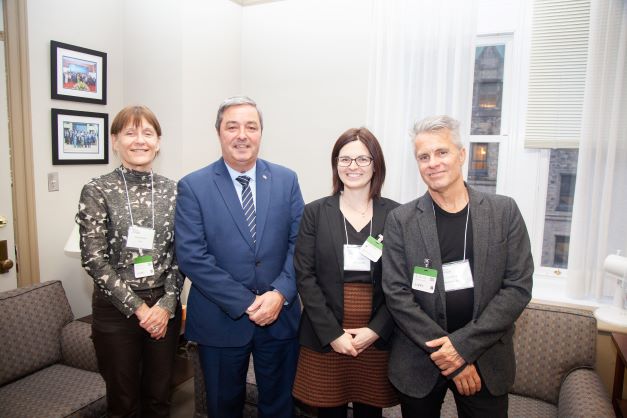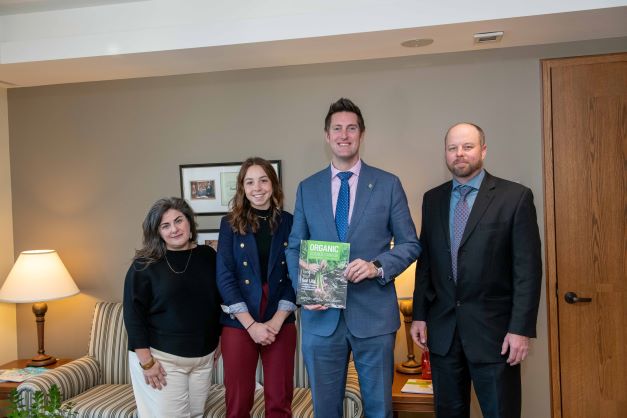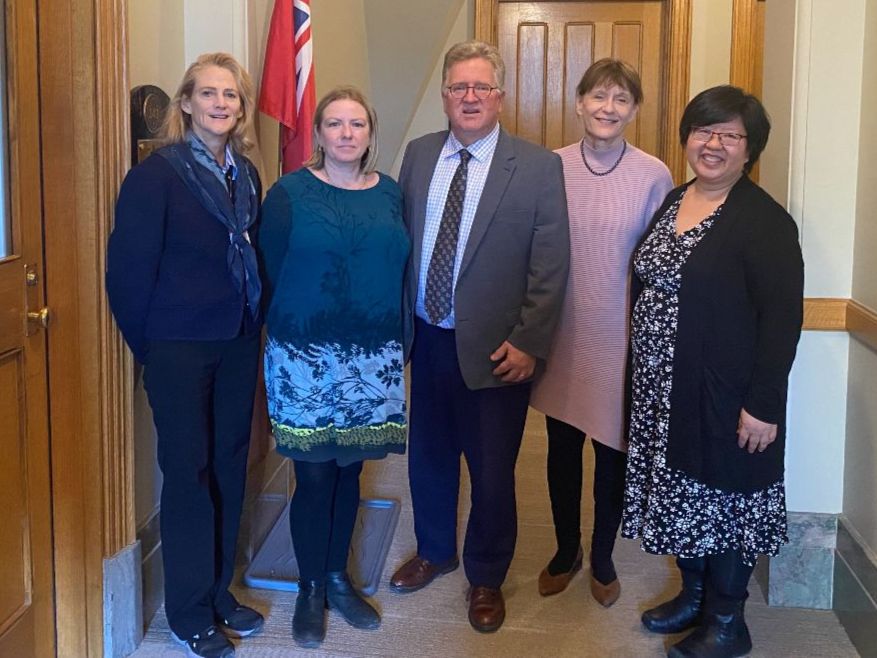 Announcing a new collaborative partnership
The Canadian Organic Alliance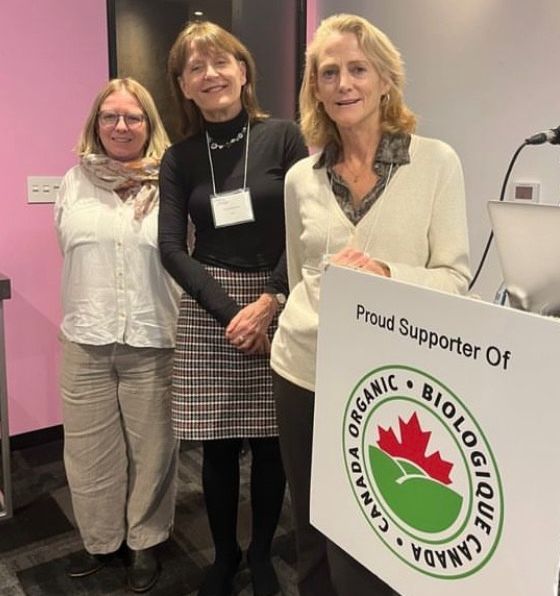 Sharing common concerns and eager to support the growth the Canadian organic industry, Canadian Organic Growers (COG), the Organic Federation of Canada (OFC) and the Canada Organic Trade Association (COTA) have decided to cooperate together in order to synergize efforts and provide the services needed to move our organic industry to a new ground : a large-scale sustainable and prosperous industry that will feed our country and maintain productivity under the threat of climate change.
This cooperation has been formalized under a Memorandum of Understanding and is now referred to as the Canadian Organic Alliance (COA), whose primary objectives are:
Presenting a unified voice to government and to the public; 
Developing and advocating for a Canada Organic Strategy & Action Plan and coordinating its implementation; and
Ensuring information is shared regularly and transparently between COTA, COG and OFC.
 The COA is managed by a committee named the Whole COA, composed of three representatives for each organisation. 
The organic standards are referenced by the government under the Safe Food for Canadians Regulations and the consumers support our industry. Canada's organic trade has reached $9 billions in 2021.
There is an opportunity for organics to champion the fundamental sustainability issues described in the Guelph Statement. Putting carbon back in the soil and reducing the amount of greenhouse gas are two major climate issues where organics could position itself as a leader. 
The Canadian Organic Alliance could be created thanks to the support of AAFC under the Canadian Agricultural Strategic Priorities Program. A campaign will be launched soon to inform the industry on COA's objectives and activities. 
 Stay tuned!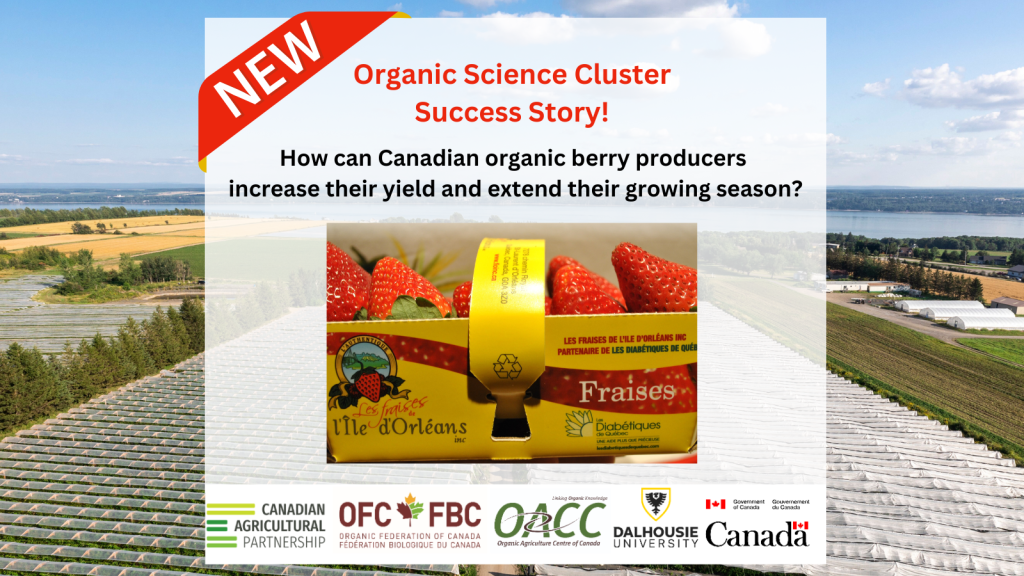 Research and Innovation
Shaping Organic Berry Production

A team of researchers from Agriculture and Agri-Food Canada (AAFC) and Université Laval collaborated with Les Fraises de l'Île d'Orléans Inc. in Quebec to design a commercial system for producing organic strawberries in tunnels in order to increase yield and extend their growing season.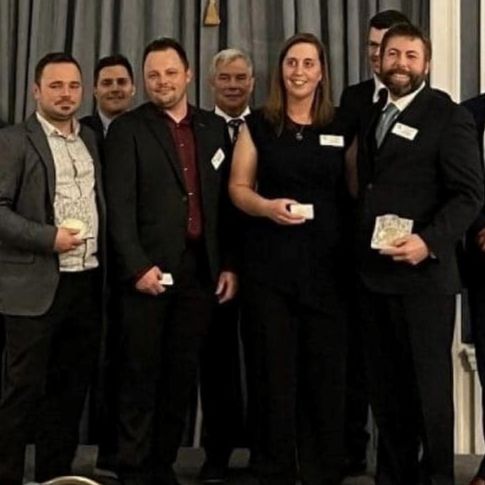 Canada's Outstanding Young Organic Farmers 

Every year, Canada's Outstanding Young Farmers' program brings recognition to outstanding farm couples in Canada between 18 and 39 years of age who have exemplified excellence in their profession while fostering better urban-rural relations.

For the first time, two organic farm couples have won the Canada's Outstanding Young Farmer (OYF) Program's national event held in Saskatoon, November 23-27, 2022:

Guillaume and Étienne Lessard
Ferme Holdream Inc, St. Honoré-de-Shenley, QC
and
Cody Straza and Alllison Squires
Upland Organics, Wood Mountain SK

Congratulations to Cody Straza & Allison Squires, and to Étienne and Guillaume Lessard!
Parkinson's disease due to pesticide use recognized as an occupational disease for a former MAPAQ employee turned organic agriculture researcher
For the first time in Quebec, a worker suffering from Parkinson's disease has had his condition recognized as an occupational disease. Gérald Chouinard (IRDA), a researcher in entomology who has been studying alternatives to chemical pesticides to control insect pests in orchards for decades, won his case in court. He will receive the compensation provided for by law.
GM Salmon Company Exposed

The US company AquaBounty that grows genetically modified (GM or genetically engineered) salmon has experienced net losses and negative cash flows since its inception and its share price has recently tumbled. A former employee is now also alleging disturbing health and safety practices at AquaBounty's US facility.

An AquaBounty whistleblower has accused the company of poor fish health, bad environmental practices, and dangerous work conditions, in a report that includes 113 leaked photos and videos from inside the US facility.