Organic Science Canada: Digging into soils #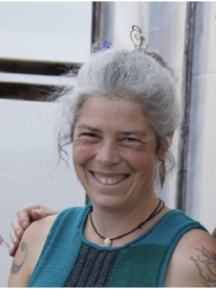 Over the last few years, we have been asked to pivot so much and so fast we could be drilling post holes. As we've dug into our soils, we have directly seen and felt the effects of climate chaos- from hydrophobic soils to flood-borne contamination and erosion to lack of nutrient uptake due to drought. Every season brings unique challenges, and perhaps more violent challenges than usual this  year (speaking for BC, for certain).
This issue of Organic Science Canada provides us with a snapshot of some of the research that can help our soil survive these challenges. Encouraging robust soil life is clearly the best way to create resilience on the farm, whether we are growing hops, carrots, sunflowers or sheep. We know that soil contains multitudes of organisms, but what are they and what do they do? Janet Wallace offers us detailed information on what's living in our soil. This article focuses on a number of soil organisms, in particular arbuscular mycorrhizal fungi, and their role in soil health. She brilliantly explains, "soil life is, in essence, the foundation of organic agriculture." This helps us realize that perhaps it's time to slow down a bit and re-examine that which sustains us – quite literally – and renew the soil food web on our farms, and our own bond with it. One of the exciting things about research on organic systems is that it crosses boundaries. Studies on one planting and cropping system gives me ideas for how to change our own cover crop regime on a different crop altogether.
As organic farmers, we live by the mantra "feed the soil, not the plant," but sometimes our tillage practices, cover crop and green manure regimes don't quite get us where we want. Stéphanie Lavergne and Joannie D'Amours discuss cover cropping as a critical tool to build healthy soils. Their article explains the research of Organic Science Cluster 3, Activity 27 (Soil health in organic tillage-based systems). This activity aims to address how field management practices and combined approaches can influence soil health and soil carbon dynamics. They explain that preliminary research findings suggest reduced tillage leads to healthier soils and an abundance of earthworms. 
Although the use of cover crops can benefit soil health and system resiliency in the long term, using cover crops can sometimes be a short term financial cost for farmers. Carolyn Marshall suggests cover crop grazing as a solution. I've been using cover crops between my perennial hops beds for years, both over summer and winter. I've never been really sure how to choose which cover crop will really meet my needs, so I rotate and intermix different crops. I also – sometimes – kill that cover crop (deliberately!) by turning my sheep into the hopyards in early spring, giving them an early pasture and reducing the amount of tilling I do. Marshall's article suggests that there's not a huge soil health difference between grazing or disking in a cover crop, but my sheep or chickens get a bonus!
While cover crops help regenerate soil biology, chemical imbalance is another matter. The loss of phosphorus on organic farms is an ongoing problem. The primary forms of phosphorus available to organic farmers are not always usable due to soil pH, leading to chronic degradation, while manure is not always accessible. Struvite, a crystal containing multiple nutrients, might be the solution, especially since it precipitates easily out of solutions of water combined with human or livestock waste. PhD candidate Joanne Thiessen Martens explains the three-year study that shows great promise in alfalfa crops, with slow release and long effect of struvite, even in alkaline soil. There is still more work to be done, including finding out if struvite from human waste streams will be added to the permitted substances list of the Canadian Organic Standards in 2025.
There's so much incredible research being done through the Organic Science Cluster that gives us new insight, new tools and new ideas to implement on our farms. While the work of OSC3 covers a lot more ground than this issue's focus on soil health, we remain rooted in our conviction that healthy soil makes healthy ecosystems and healthy farms. I'm excited to plan this year's cover crop rotations and find out more about how to make my farm more resilient! I'm also very proud of the work done by the Organic Agriculture Centre of Canada and the Organic Federation of Canada to enable all these research projects. We know what a difference they make to all our farms.
Sincerely,
Rebecca Kneen
Board member, representing Organic BC
Organic Federation of Canada
The Organic Science Cluster 3 is led by the Organic Federation of Canada in collaboration with the Organic Agriculture Centre of Canada at Dalhousie University, and is supported by the AgriScience Program under Agriculture and Agri-Food Canada's Canadian Agricultural Partnership (an investment by federal, provincial and territorial governments) and over 70 partners from the agricultural community.
This magazine may be cited as: Geldart, E.. Graves, M.E., Boudreau, N., Wallace, J., and Hammermeister, A.M. (Editors). 2022. Organic Science Canada. Volume 4. Organic Federation of Canada, Montreal, QC and Dalhousie University, Truro, NS. 40 pp. www.dal.ca/oacc/oscIII