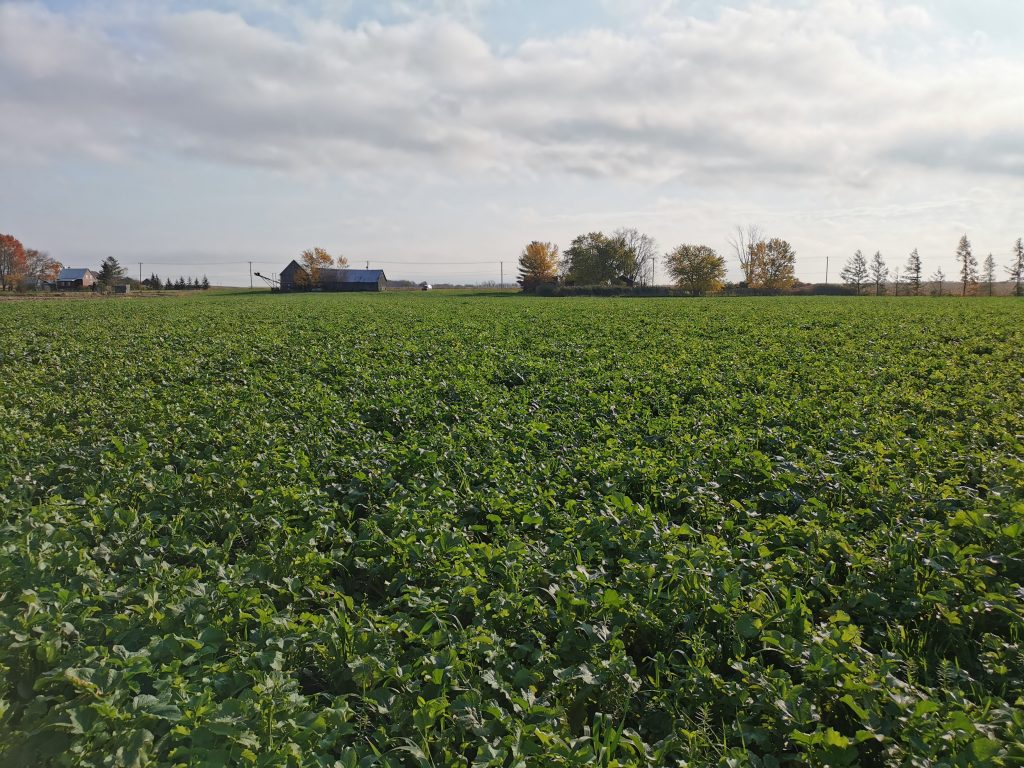 By Stephanie Lavergne and Joannie D'Amours,
Université Laval, Dalhousie University
Certified organic farming uses many approaches to farm management but those that require intensive tillage practices for weed control are unacceptable under organic. Intense tillage can alter soil physical and biological properties, deteriorating the health of the soil. So what can be done? Cover cropping might be the answer.
Cover cropping could mitigate the effect of intensive tillage by enhancing soil health. Cover crops are non-commercial crops often grown as full-season crops, fall-seeded crops or intercrops. They are primarily used to promote soil health, by improving biodiversity and soil tilth and reducing erosion, but can also smother weeds, support pollinators and reduce pest pressure.
Soil health can be defined as the capacity of a soil ecosystem to provide its vital functions. These include: support plant growth, provide habitats for various organisms, mitigate climate change, regulate flooding, sequester carbon, etc. Soil is the foundation of most agricultural production and are particularly important in organic farming, as crop nutrition mainly relies on the activity of soil organisms (soil food web) in these systems.
Organic farmers are especially interested in the biological health of their soil, as
revealed by Dr. Derek Lynch and Ms. Carolyn Mann's recent study on farmers' perception about soil health in Atlantic Canada. Similar to assessments of human health, soil health is measured using a combination of tests. While some of these physical, chemical and biological tests can be done directly in the field, lab-based soil health tests are done on soil samples that are representative of a field. Soil tests can broadly evaluate the overall soil health at the farm level, or specifically assess an agronomic approach or problem of a certain field.
Cover Crops Supply Nitrogen to Organic Grain Corn #
Cover crops are often fall-seeded by Canadian organic growers to provide soil cover during winter (and preventing nutrient losses and soil erosion) and provide nitrogen for the following crop. Producers were curious to know if fall-seeded cover crop mixtures could perform better than fall-seeded pure stands of field pea (cv.4010). A team of researchers at Université Laval and Agriculture and Agri-Food Canada measured shoot and root nitrogen content of pea-based cover crop mixtures to evaluate their effect on available soil nitrogen and corn yield in the following year. The field study was conducted in Québec at a research site and on-farm in collaboration with an organic grain corn producer. Three cover crop mixtures containing field peas were compared to pure stands of field pea.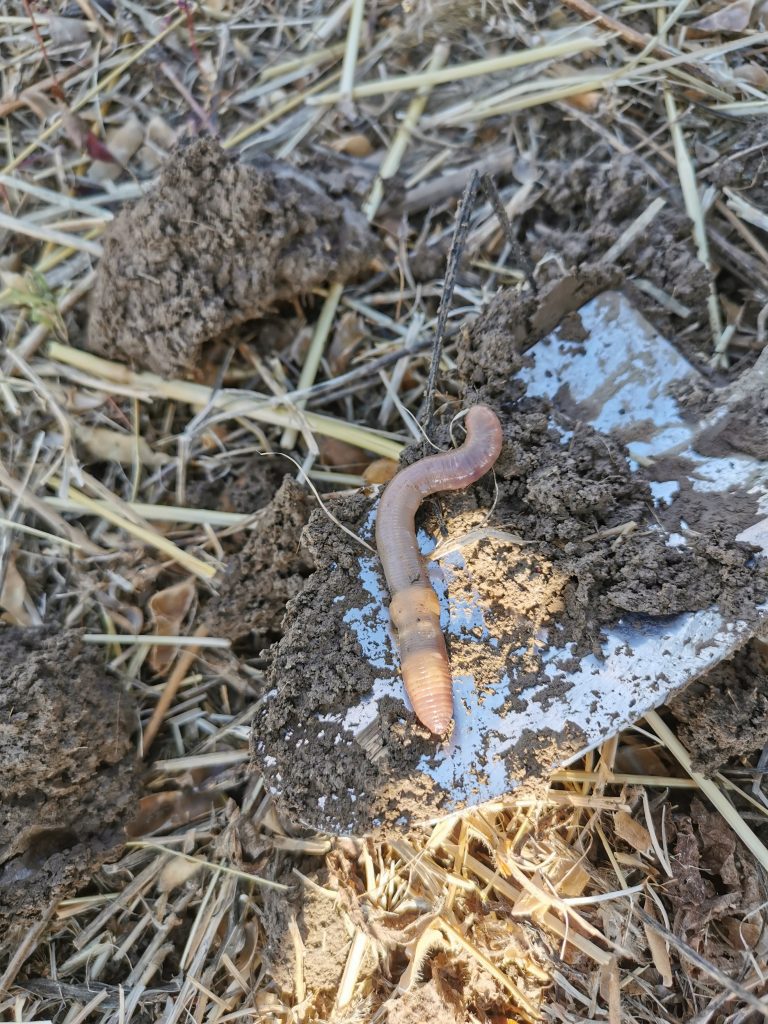 The study revealed that, on average, the cover crop roots accounted for only 14 percent of the total nitrogen content of the cover crops. The pea-based mixtures had a lower shoot biomass, but a higher root biomass than the pure stand of field pea. Corn yield following a pure stand of pea or pea-based mixtures was improved by 28 percent compared to a control without a cover crop. Thus, pea-based mixtures are a good alternative to a pure stand of pea to supply nitrogen for corn as they would further enhance soil health and ecosystem services with their greater root biomass. 
Digging into the scientific literature, the researchers also highlighted that legume and legume based cover crop mixtures are best suited to increase the soil levels of nitrogen and carbon content and to improve yields, while non-legumes are best suited to reduce soil residual nitrogen and control weeds. When choosing a fall-seeded cover crop, farmers should consider mixtures of legume and non-legume species since they offer a good trade-off among agronomic benefits and soil and ecosystem services.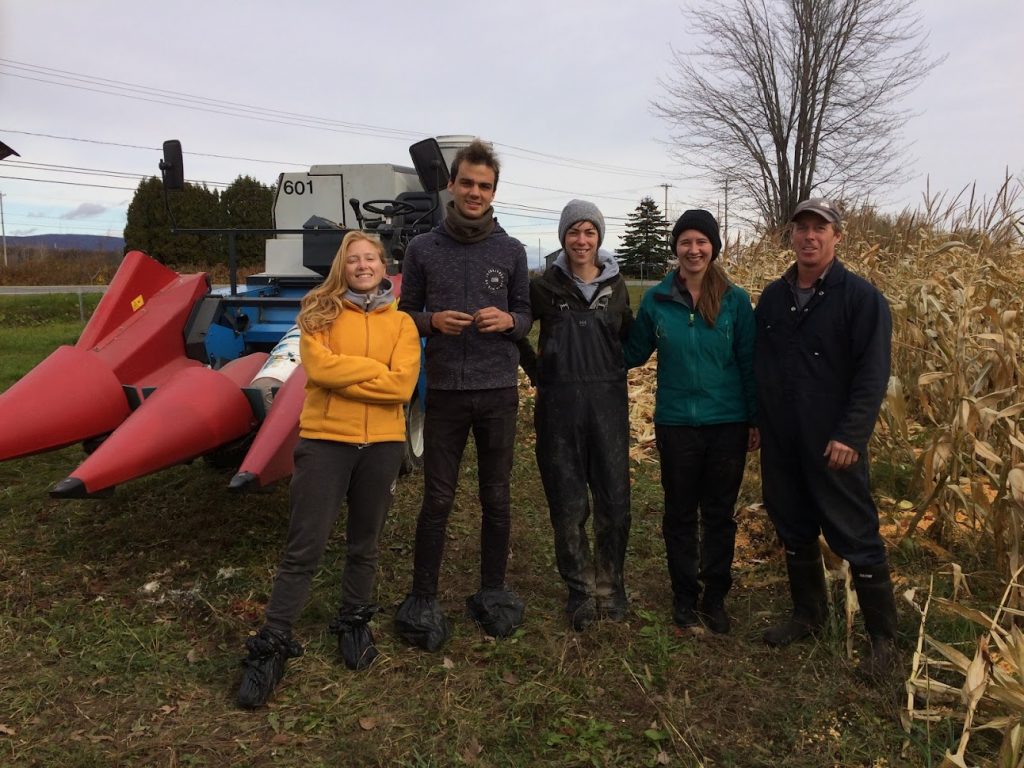 Although using cover crops can increase cash crop yields, recent on-farm studies have shown that diversified rotations including cover crops are associated with increased tillage intensity and a negative effect on soil health. Federal and provincial governments are setting ambitious targets in soil conservation to improve both soil health and soil carbon. Understanding how field management practices and combined approaches influence soil health and soil carbon dynamics is a key research gap. PhD student Stéphanie Lavergne (Dalhousie University), Dr. Derek Lynch (Dalhousie University) and Dr. Caroline Halde (Université Laval) are collaborating with 11 organic farmers in Québec to address this research gap.
An on-farm soil survey is being conducted to determine how specific management practices affect soil health indicators and earthworm population dynamics. Earthworms are particularly valuable indicators when it comes to soil health, as they contribute to soil carbon dynamics, and are sensitive to cropping and tillage practices. Organic farmers are curious to know: How does soil health vary across their farm? Which soil health indicators are influenced by their management practices? Which soil health functions should they promote and how can they assess them?
Preliminary research completed on Québec organic grain farms suggests that earthworm abundance and species diversity were influenced by soil organic matter concentrations and management practices, such as tillage intensity and crop rotations. More concretely, earthworm total abundance decreased with tillage frequency – more tillage led to fewer earthworms.
A Québec producer participating in the project was surprised by the abundance of earthworms in his fields in 2019. This producer adopted reduced tillage practices several years ago and is glad that this has had a real positive effect on his farm's soil health. This study is still ongoing as of fall 2021. More findings on how soil health and carbon dynamics are influenced by management practices should be available soon
Table 1. Summary of the results from the cover crop mixtures study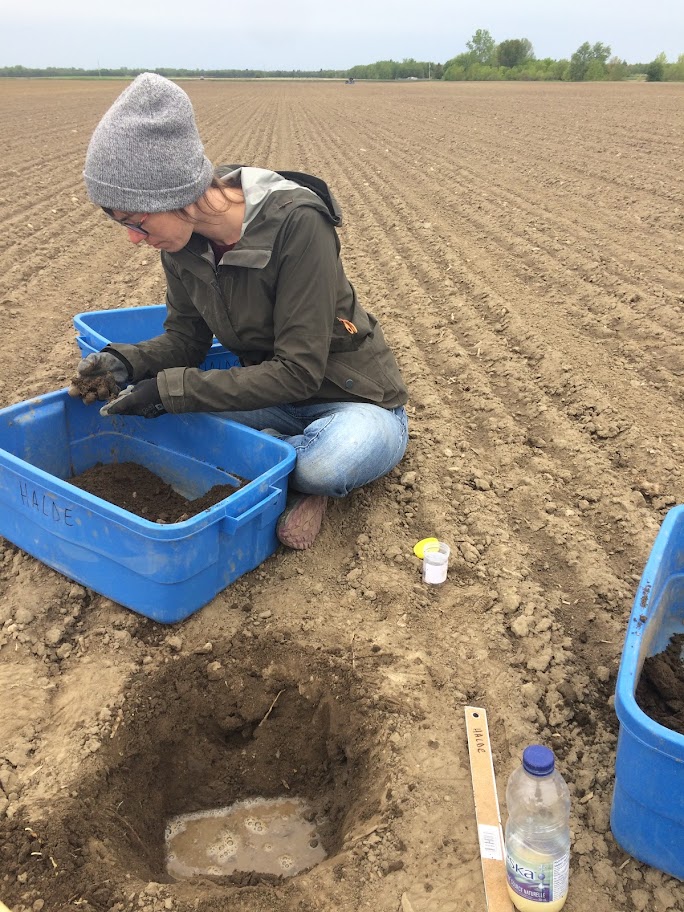 Cover crops in pure stands and mixtures have the potential to provide many ecological services, such as weed control, nitrogen supply, improved crop yield and soil health benefits. More knowledge on the contribution of different cover crop species in terms of shoot/root biomass and carbon and nitrogen content would help producers choose cover crops (or mixtures) that best suits their needs. Moreover, future research should clearly identify the mechanisms underlying soil nitrogen mineralization, carbon stabilization and soil health benefits from cover crops across different cropping systems. This will help farmers and stakeholders adapt their practices to enhance organic crop yields while maintaining soil health.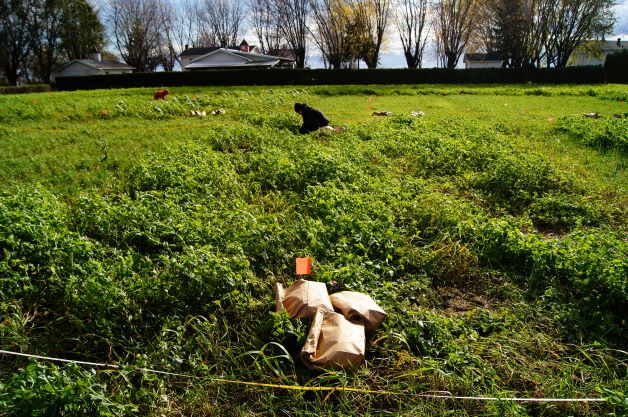 The Organic Science Cluster 3 is led by the Organic Federation of Canada in collaboration with the Organic Agriculture Centre of Canada at Dalhousie University, and is supported by the AgriScience Program under Agriculture and Agri-Food Canada's Canadian Agricultural Partnership (an investment by federal, provincial and territorial governments) and over 70 partners from the agricultural community.
This magazine may be cited as: Geldart, E.. Graves, M.E., Boudreau, N., Wallace, J., and Hammermeister, A.M. (Editors). 2022. Organic Science Canada. Volume 4. Organic Federation of Canada, Montreal, QC and Dalhousie University, Truro, NS. 40 pp. www.dal.ca/oacc/oscIII