Minister Gerry Ritz announces the Organic Science Cluster II
accroche: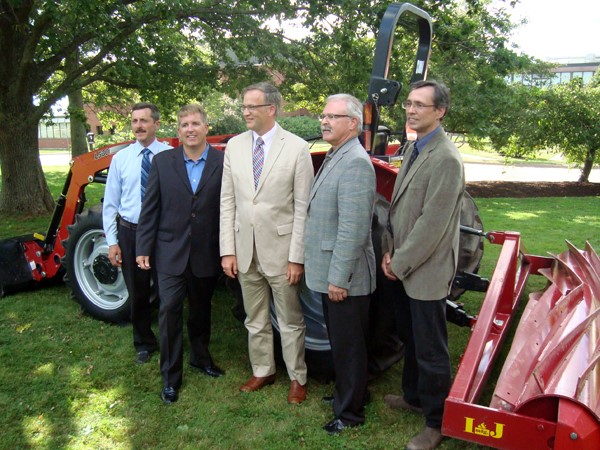 The announcement of Organic Science Cluster II took place today on Dalhousie University's Agricultural Campus in Truro, NS. L'annonce de la Grappe scientifique biologique II a eu lieu aujourd'hui sur le campus de la Faculté d'agriculture de l'Université Dalhousie à Truro, N.-É. From left to right/De gauche à droite: Tim Livingstone, Organic Federation of Canada; Scott Armstrong, MP for Cumberland-Colchester-Musquodoboit Valley; Dr. Richard Florizone, President of Dalhousie University; The Honourable Gerry Ritz, Minister of Agriculture and Agri-Food Canada; and Dr. Andy Hammermeister, OACC Director, Dalhousie University.
There will be a second Organic Science Cluster: Minister Gerry Ritz, of Agriculture and Agri-Food Canada, made the official announcement today, August 12 2014, on the Agricultural Campus of Dalhousie University, in Truro, where is now located the Organic Agriculture Center of Canada.
The Organic Science Cluster II (OSCII) will be managed by the Organic Agriculture Centre of Canada at Dalhousie University in collaboration with the Organic Federation of Canada, the industry applicant. The Organic Science Cluster II is supported by over 65 contributing partners and it includes 37 research Activities. The OSCII also includes collaborating researchers from over 36 research institutions across Canada.
"We, organic producers and processors, are very happy with the announcement of the Organic Science Cluster II, as we will have over 135 researchers from over 40 Canadian institutions helping us improving the yield of our crops, recycling our resources, having a better control of our weeds, taking better care of our farm animals, in order to offer quality food to Canadian consumers and to consumers in countries where our organic products are exported", commented Tim Livingstone, representing the OFC at the announcement.
Tim added that "This is fantastic to discover how organic production can be improved through scientific research targeting organic production under the Canadian climate and agronomic background, while allowing organic farmers and processors to continue developing food production practices that remain sustainable and compliant with the Canadian Organic Standards regulated by the federal government".
Read more about the OSCII by clicking here.
To read AAFC press release, click here.